EvaPack™
up to 6000 l/h
maximum water capacity
VDI 6022 certified
for use in hygienic installations
Compatible
with osmosis or demineralized water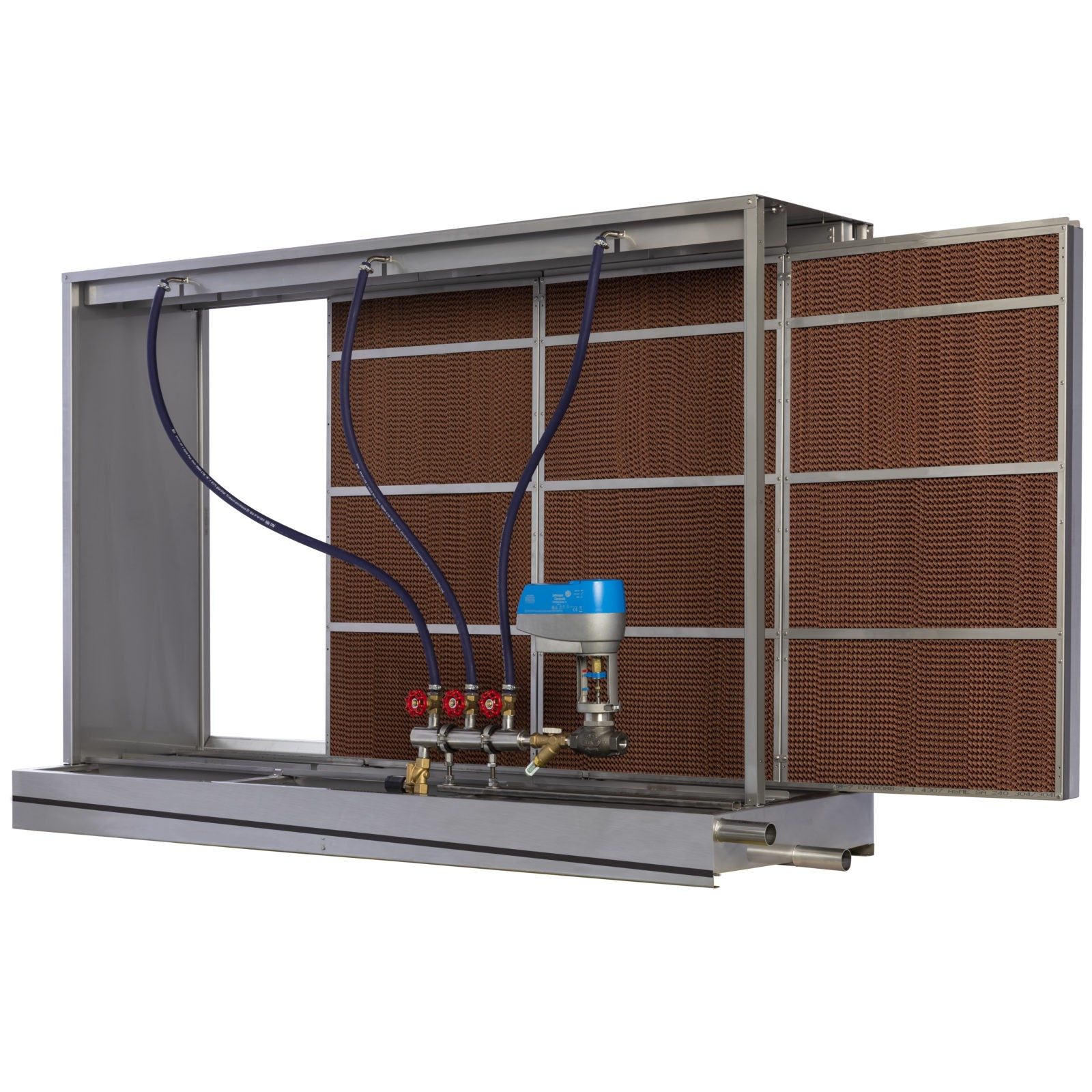 The EvaPack™ humidifier/cooler converts water into steam through the adiabatic process. Dry air is passed through a moist media consisting of corrugated sheets of non-organic fibers.
Description
The EvaPack™ uses the sensible heat of the air to allow evaporation without any loss or addition of thermal energy. The air is thus cooled and humidified. Thanks to their compact design, EvaPack™ humidifiers are particularly easy to install and maintain.
Armstrong EvaPack™ is a safety humidifier and cooler, which through evaporative process converts potable water into vapor. Cold water below 20°C is used to prevent microorganism proliferation.
Air passes through wetted rigid-media, humidifying and cooling, by using the sensible heat of the air. Similar to a natural process observed above lakes and rivers.
No rigidity loss. No fiber loss in the air flow
Odor free
None harmful substances dispersed in the water or in the air.
Easy and fast installation
Low and easy maintenance
Easy cleaning
High efficiency and low pressure drop
Certified according to the RoHS Directive;
Hygienic : pad is not a nutriment for microorganisms, certified ISO 846 and VDI 6022
No absorption distance
Customized Design
Efficient
Optimized water contact surface
Armstrong EvaPack™ est un humidificateur et un refroidisseur qui, par son processus d'évaporation, transforme l'eau potable en vapeur. L'eau froide en dessous de 20°C est utilisée pour empêcher la prolifération des micro-organismes (application hygiénique). L'air passe à travers un média rigide et mouillé, humidifiant et refroidissant l'ambiance, en utilisant la chaleur sensible de l'air. C'est un processus naturel que l'on peut observer au-dessus des lacs et des rivières.